Student Reporting
Schools provide parents, caregivers, and students with information about the student's learning at intervals throughout the school year through report cards and other reports. Student reporting requirements are set by the Ministry of Education and Child Care.
Parents, caregivers, and students can expect five 'reports' each school year about student learning; three formal written report cards and two informal communications of the teacher's choosing.
Descriptive feedback is provided along with a proficiency scale or letter grade/percentage, depending on the student's grade level. Letter grades and percentages are only provided for students in grades 10-12.
The Provincial Proficiency Scale
The Provincial Proficiency Scale, used for grades K-9 and the secondary school literacy and numeracy assessments, views learning as an ongoing process and is intended to help students attain proficiency.
The four points on the scale include: Emerging (1), Developing (2), Proficient (3), and Extending (4).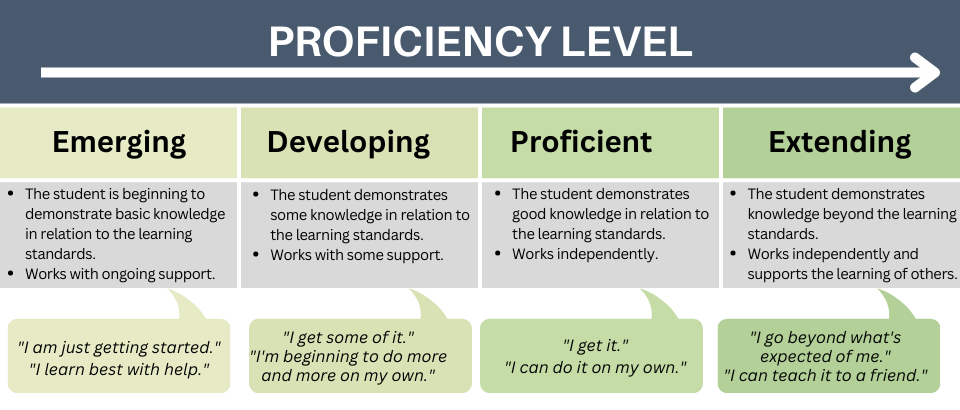 The proficiency scale is also used for secondary school literacy and numeracy assessments because the assessment is not based on a particular subject matter or course, but rather on learning across multiple subjects from kindergarten to grade 10 for the numeracy assessment or kindergarten to grade 12 for the literacy assessment.
Reporting Changes Starting in the 2023-2024 School Year
The Ministry of Education and Child Care is making some changes to the K-12 Student Reporting Policy Framework in the 2023-2024 school year. Our school district has already adopted some of these changes. The following are what will be new to SD72 schools in 2023-2024:
Graduation status updates in grades 10-12.
Student self-assessment and goal setting in all grades in the three written report cards.
A change from the "I" reporting symbol to "IE" to denote "insufficient evidence" of learning instead of "incomplete" learning.
All learners, including students with a disability or diverse ability, will receive regular communications of student learning in the same way as their peers in any other program.
The provincial changes are explained further in the created for families by the ministry.
For more information on student reporting, we encourage you to talk with your teacher(s) and/or school principal.